Asian Food Wholesale and Retail in Tasmania
RECIPES
Bring You to Experience Unique Chinese Cuisine
HOT POT
The Joy of Eating Hot Pot: A Brief and Simple Guide to Enjoying This Delicious Meal
There are many regional versions of hot pot throughout China. What makes one different from another is the broth and the specific meats used. In colder northern China, lamb is a common choice. Cantonese hot pot, on the other hand, is heavy on fresh seafood, including live shrimp, oysters, and squid. Mongolian-style hot pot is known for its flavorful broth, which contains ingredients like goji berries, jujubes, and a mix of herbs. The city of Chongqing is famous for its use of Sichuan peppercorns and other mouth-numbing ingredients.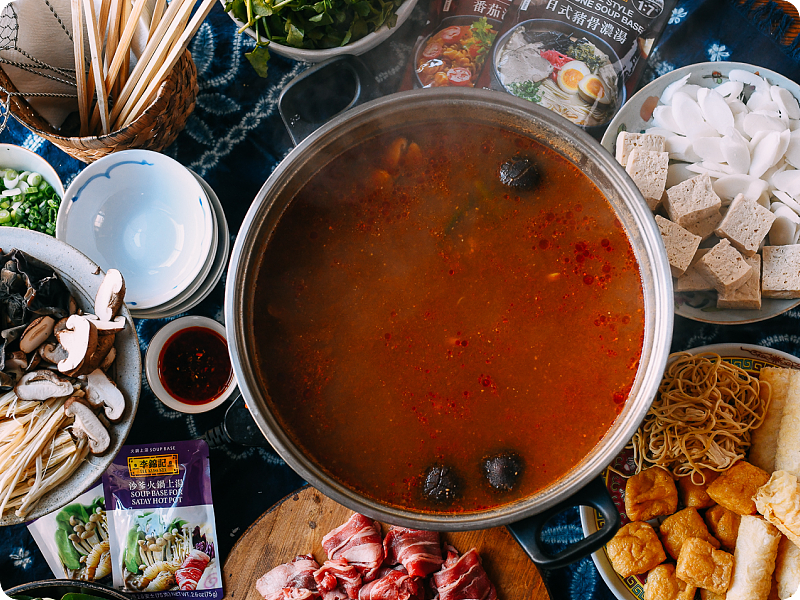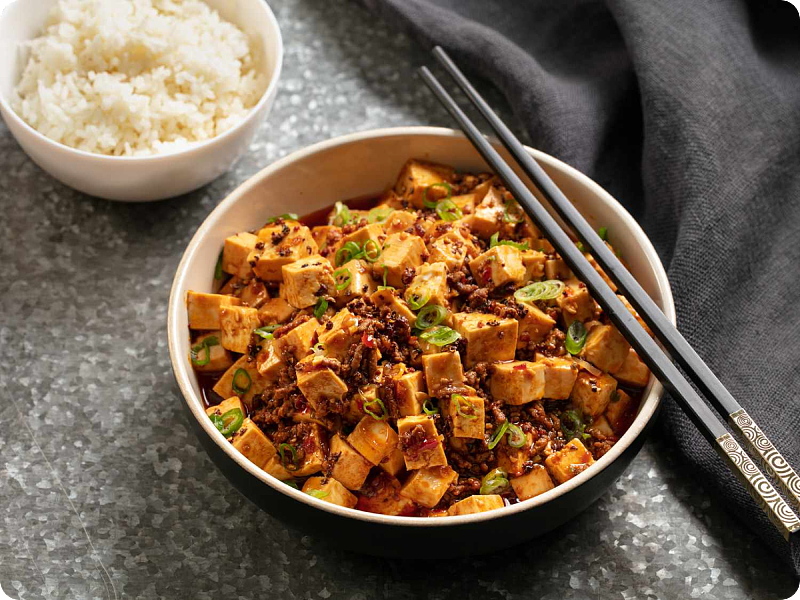 MAPO TOFU
A traditional Sichuan dish, mapo tofu is made with simmered medium-firm silken tofu flavored with fermented bean paste, beef, plenty of red-hot roasted chili oil, and a handful of Sichuan peppercorns. When done right, the dish comes out with a thick coating of hot chili oil covering its surface, keeping the contents underneath hot in both senses of the word. It's a great representation of málà, or hot and numbing flavor.
It's dangerously captivating stuff. Just as your mouth seems about to spontaneously combust from the chili heat, the Sichuan peppers kick in, numbing it back to soothing calmness so you can take another bite and start the whole process over again.
How to Cook?
Ingredients
2 tablespoons Sichuan peppercorns, divided (see notes) 1/4 cup vegetable oil 1 teaspoon cornstarch 2 teaspoons cold water 1 1/2 pounds medium to firm silken tofu, cut into 1/2-inch cubes 1/4 pound ground beef 3 garlic cloves grated on a microplane grater 1 tablespoon fresh ginger grated on a microplane grater 2 tablespoons fermented chili bean paste (see notes) 2 tablespoons Shaoxing cooking wine 1 tablespoon dark soy sauce 1/4 cup low sodium chicken stock 1/4 cup roasted chili oil (see notes) 1/4 cup finely sliced scallion greens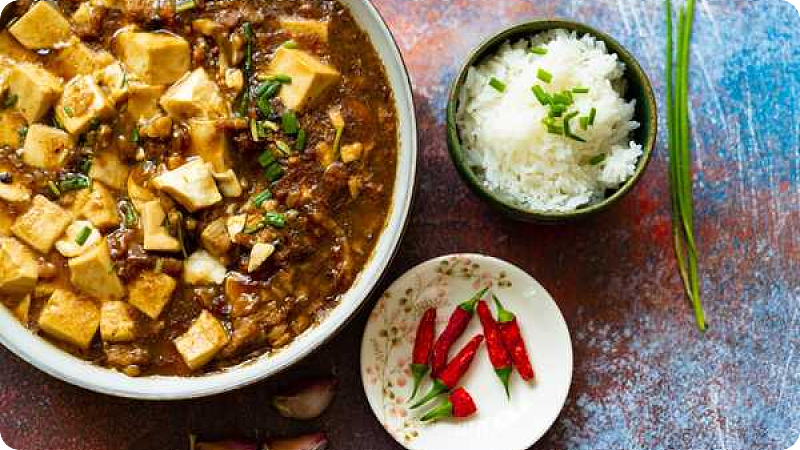 Step 1.
Heat half of Sichuan peppercorns in a large wok over high heat until lightly smoking. Transfer to a mortar and pestle. Pound until finely ground and set aside.
Step 2.
Coarsely ground Sichuan peppercorns in a pestle and mortar for mapo tofu. Add remaining Sichuan peppercorns and vegetable oil to wok. Heat over medium high heat until lightly sizzling, about 1 1/2 minutes. Pick up peppercorns with a wire mesh skimmer and discard, leaving oil in pan.
Step 3.
Collage of Sichuan peppercorns frying in oil for mapo tofu. Combine corn starch and cold water in a small bowl and mix with a fork until homogenous. Bring a medium saucepan of water to a boil over high heat and add tofu. Cook for 1 minute. Drain in a colander, being careful not to break up the tofu.
Step 4.
Collage of tofu cubes soaking and being drained for mapo tofu Heat oil in wok over high heat until smoking. Add beef and cook, stirring constantly for 1 minute. Add garlic and ginger and cook until fragrant, about 15 seconds. Add chili-bean paste, wine, soy sauce, and chicken stock and bring to a boil. Pour in corn starch mixture and cook for 30 seconds until thickened. Add tofu and carefully fold in, being careful not to break it up too much. Stir in chili oil and half of scallions and simmer for 30 seconds longer. Transfer immediately to a serving bowl and sprinkle with remaining scallions and toasted ground Sichuan pepper.